The Great Demise: EUR at Two-Year Low
Justin Burkhardt | July 19, 2012

Strength is fading. Parity is visible. Reform is the only option. European markets are tumbling and the euro has slipped to record lows against several major currencies. The market is in reaction mode responding Spain and Greece in the headlines.

Investors have cast their doubts that the debt-ridden nation of Spain can avoid another full-blown bailout after Valencia, the third largest city in Spain, called out for aid from Madrid. Spain continues to march towards its fiscal demise, while Greece stands perched at the edge of its own fiscal cliff – Which country will be the first domino?

The European Central Bank's have announced that they are suspending the eligibility of Greek bonds as collateral.

After a brief respite, Spain's borrowing costs have once again breached the unsustainable level of 7 percent; and there are not signs of relief any time soon. Meanwhile, the country's credit rating is being pushed further into "junk territory" as Egan-Jones aggressively downgraded Spain for the sixth time since mid-April. Egan-Jones's newly adjusted rate is a double-C-plus which is a downgrade from a triple-C-plus. According to Egan-Jones, Spain's probability of default in the next year is 35%.

The ECB's decision to suspend Greek bond eligibility resulted from the upcoming expiration of a Greek bond swap that was launched earlier this year. Greek sovereign bonds "will become, for the time-being, ineligible for use as collateral in euro-system monetary policy operations," said the ECB. This decision may not be permanent, as the ECB has stated that they will reassess bond eligibility once experts have reviewed Greece's progress in meeting the conditions set within their bailout program.

These events have set fire to the streets and investors are quickly fleeing the scene.

The euro plummeted to record lows against the Australian, Canadian and New Zealand dollar; and is falling fast against the U.S. dollar reaching a low of $1.2143 this morning.

This move should not come as a surprise to any of my readers. I have been short on the EUR.USD since its consolidation back in May of 2012 at $1.31 and have projected that the first leg of this decline would send it to the $1.19 region.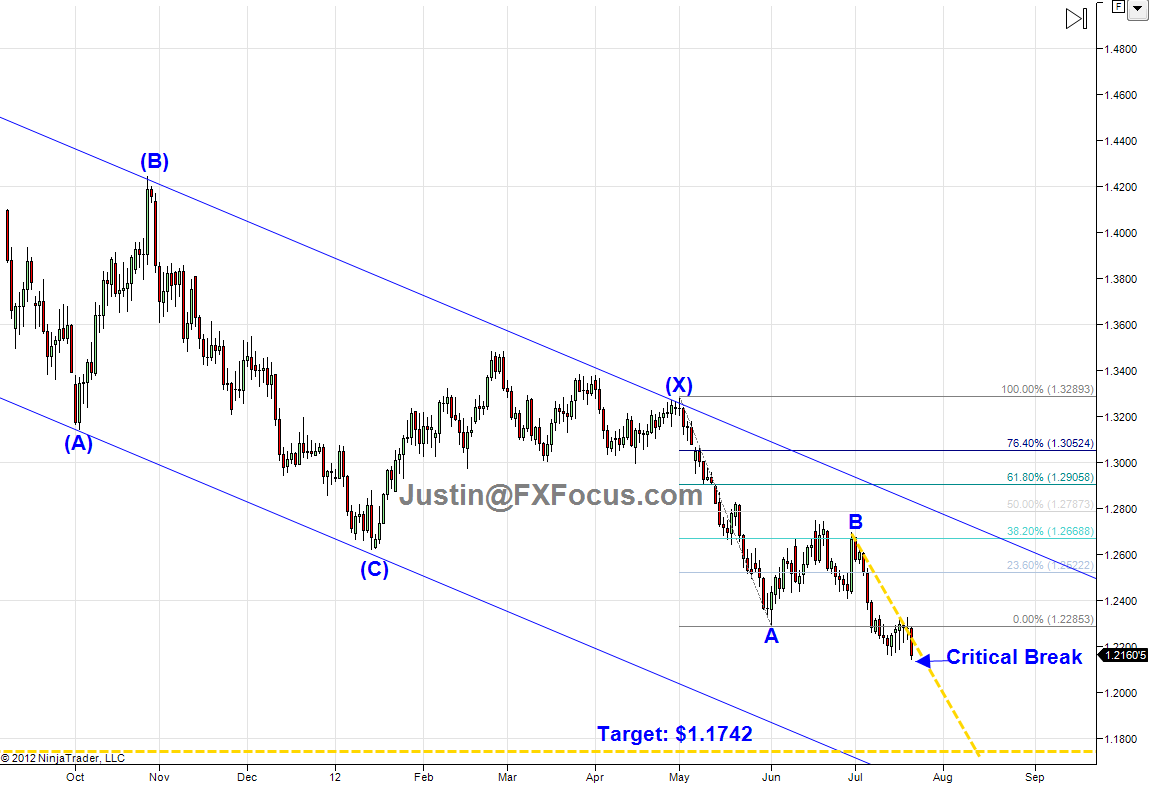 Your on point currency analyst,

Justin Burkhardt
Editor & Currency Strategist
FXFocus.com | @JDBurkhardt
Dislaimer: I have not position in any stocks listed above and do not plan on entering the market within the next 48 hours.